Dermatology – specialty for skin diseases
U-Clinic Westerpark specializes in dermatology – the diagnosis and treatment of skin conditions. As with the other U-Clinic locations, it is striking how the specialists themselves provide full guidance. From the first introductory meeting to aftercare. Also special is their collaboration with the U-Clinic Cosmedilight, our practice for skin therapy, located in the same building. The dermatologists work closely with the skin therapists and with you on optimal treatment of your skin problems.
Your skin is a fascinating and important organ that helps regulate your body temperature and protects you against the 'evil' outside world. It is a visible and sometimes vulnerable organ. There are many skin disorders. From viruses (such as warts ) to bacterial infections. From problems with redness in the face ( rosacea ) or with the sebaceous glands ( acne ) to eczema and hyperactive sweat glands . Plus, of course, various forms of skin cancer . This makes dermatology one of the broadest medical specialties. Dermatologists follow a five-year specialization to become a dermatologist after their six-year training as a basic doctor. The dermatologists of U-Clinic excel in a very personal approach. Completely in the U-Clinic style!
Diagnosis skin conditions
Because there are so many different skin conditions, diagnosis plays an important role. The difference between a harmless mole and a potentially dangerous skin tumor is not easy to see, especially in the early stages. During the intake, our dermatologists take plenty of time to talk to you about the cause of your complaints and to examine you properly. Based on their experience, they can often quickly make the correct diagnosis. And if not, they can take a culture, do blood tests, or remove a piece of skin to have it examined in the lab. Or examine your skin very closely with a special skin microscope (dermatoscope).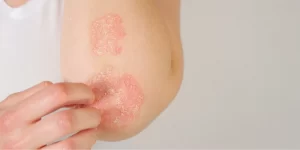 Treatment of skin diseases
It's hard to say anything general about treatment here, because each of the hundreds of skin conditions requires a different approach. It is nice to know that the dermatologist does everything in consultation with you. We will draw up a treatment plan together with you, so that you know very well what your role is in this. In the case of skin disorders in particular, the role of the patient in successful therapy is significant. In addition, as mentioned, we work together with our 'neighbors', the skin therapists, who can support you in the treatment of acne , rosacea and excessive hair , among other things. Click through below to learn more about common skin conditions:
Acne (youth pimples)
Eczema
Skin cancer (birthmarks)
Psoriasis
Warts
Sun-damaged skin (actinic keratosis)
State-of-the-art approach to perspiration complaints
As one of the first clinics in the Netherlands, we have the innovative 'miraDry' device, effective against excessive perspiration in the armpits. Read more about this on the separate page on treatment of perspiration problems.
The advantage of the U-Clinic network
Because our dermatology practice is part of U-Clinic, you as a patient also benefit from the bundled knowledge of this network. We can always call on the expertise of our colleagues in other U-Clinic locations, especially for complaints that fall under different specialisms, such as varicose veins (including phlebology) or anal warts (including proctology). You are therefore assured of absolute top care. With a human face.
Men and women
Because dermatological problems can be quite intimate, some people find it more comfortable to be helped by someone of their own gender. U-Clinic employs both male and female dermatologists. If you express your preference for a man or a woman at the first contact, we will take this into account when planning your appointment.
Problems with your skin? Contact us.
If you suffer from a skin disease, or you don't trust a mole, you can schedule an appointment through your GP, or contact us directly. An initial consultation is always reimbursed by the insurance, provided you bring a referral letter from your GP. However, you must take the deductible into account. For more information or to make an appointment , call 085 – 022 0580 or go to our special contact page .