Treating Eczema
Everyone suffers from eczema: an inflammatory reaction that leads to itchy skin rashes with red, scaly patches and sometimes blisters. There are many different shapes. Eczema is not contagious, but it can be very difficult to treat and keep coming back. The dermatologist at U-Clinic can help you combat the nuisance as much as possible.
The different types of eczema
We can distinguish eczema by its shape, by the place where it occurs and by the possible cause. For example, there is nummular eczema that takes its name from the round 'coin-like' shape. Hand eczema occurs on the hands. Constitutional or atopic eczema is a congenital condition that we mainly see in young children. There is a relationship with asthma and hay fever. Contact eczema is caused by repeated contact with certain substances and is sometimes occupational. Finally, there is 'seborrhoeic eczema', which is actually a yeast infection, which mainly occurs on the hairy scalp.
Want to know more about the different types? The Dutch Society for Dermatology and Venereology has extensive information available .
Treatment of eczema
Treatment depends on the type of rash. Usually eczema ointments are sufficient. Sometimes tablets are also needed. In any case, a treatment always requires a lot of consultation and intensive cooperation between you and your dermatologist. At U-Clinic you get the serious and personal attention you deserve.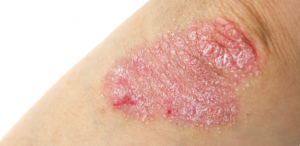 Suffering from eczema? We can help you
Eczema is not dangerous, but it can still bother you quite a bit. Because of the itching or simply because it looks unpleasant. Although we can't always cure it 100%, we can certainly alleviate or remedy the worst symptoms. Schedule an appointment with your GP or contact us directly. Call (020) 688 58 88 or use our special contact page .