Hemorrhoid Treatment
Nobody likes to talk about anal conditions, such as hemorrhoids. Yet millions of patients suffer from pain and bleeding around the anus. They often keep walking around with it, because they don't want to bring it up with the doctor. That's a shame, because in most cases hemorrhoids can be treated very easily, quickly and without much physical discomfort.
What are hemorrhoids?
Hemorrhoids are actually very useful erectile tissues at the very end of the rectum, about two centimeters above the anus. They help the sphincter to close the intestine properly. Everyone has hemorrhoids, which in most cases do their job unnoticed. You only notice them when they bother you. Irritated, swollen hemorrhoids may bleed and itch. What can also happen is that hemorrhoids disappear but that the stretched skin remains in the way in the anus in the form of flaps. We then speak of 'skin tags' or Marisken.
Complaints with hemorrhoids
The most common complaints of hemorrhoids are: bright red blood loss, mucous discharge, itching, pain, burning in and around the anus, the sagging of tissue from the anus and problems with bowel movements. Think of empty urgency and the feeling that stools are left behind. Hemorrhoids therefore mainly cause discomfort, such as pain when sitting, standing and cycling, and bloodstains in bedding and clothing. But neglected hemorrhoids can also lead to more serious ailments, such as open sores near the anus. Unnecessary, because the effective treatment of hemorrhoids, especially at an early stage, only takes a few minutes for the experienced U-Clinic proctologist.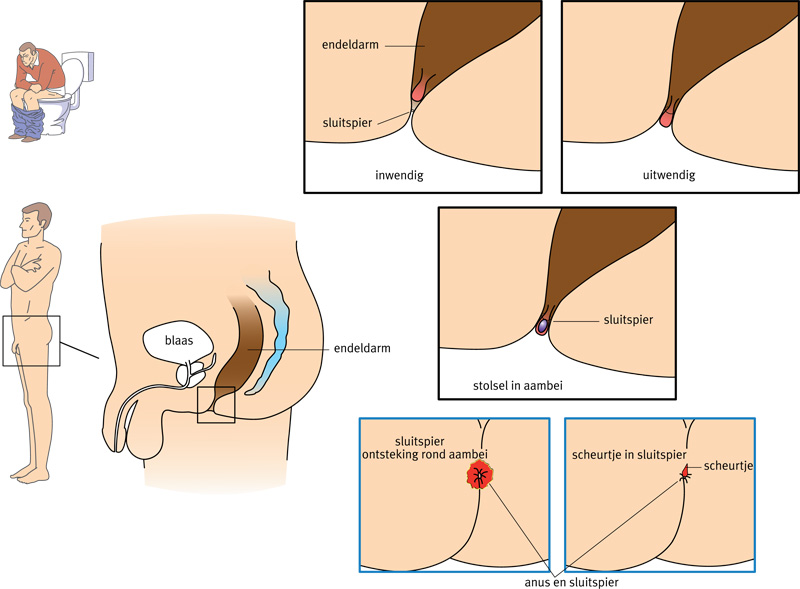 Treatment of hemorrhoids
If you come to us with anal complaints, the attending physician will first take plenty of time to discuss with you what exactly is going on. He (or she) will try to determine how severe the
are complaints. Depending on the size and position of the hemorrhoids, he will discuss the next steps – again in consultation with you. In some cases it is even possible to treat the hemorrhoids directly on the spot. Treatment of hemorrhoids with our modern techniques is less invasive and painful than many people think. You can usually go home immediately.
Reimbursement insurance and contact
The first consultation with the U-Clinic proctologist is always reimbursed by the insurer, provided you bring a referral letter from the general practitioner. It is possible, however, that you have to pay a part of the deductible. That depends on your policy conditions. Read more about it on our ' Costs and fees ' page.
Treatment against hemorrhoids. By the way, you can of course always contact us with questions. About your complaints, about the treatment and about your chance of reimbursement. Our team is ready for you. U-Clinic is here for you!