No control over stool
Anal incontinence (decreased stool control) can occur as a result of a weak sphincter or prolapse of the rectum. We then speak of pelvic floor problems. Many of these complaints can be the result of a heavy delivery and damage to the sphincter muscle up to 20 or 30 years earlier. Very old damage, which only leads to problems at a later age. Neurological problems can also cause incontinence.
Diagnosis by multiple specialists
There are sometimes so many factors that play a role in pelvic floor problems that several specialists actually have to look at it. As a result of muscle relaxation, various organs in the pelvic floor can sag. It is not easy to determine exactly which areas this concerns. The U-Clinic proctologist will, if necessary, call in the help of colleagues from other fields, such as the gynaecologist, the urologist or the pelvic floor physiotherapist, for a correct diagnosis. Combined examinations and measurements can show where the complaints come from. Your proctologist is in control and takes plenty of time to explain everything to you, possibly on the basis of drawings and models.
Rectum Prolaps
A 'prolapse' is a bulge of the rectum, which, for example, partly comes out through the anus. The prolapse must be 'picked up' and secured under anesthesia.
Rectocele
A prolapse of the rectum into the vagina is a rectocele. In this prolapse stool can remain, so that you continue to feel the urge. This problem can really only be solved by surgery. That is the job of the gynaecologist. In that case, the proctologist will refer you.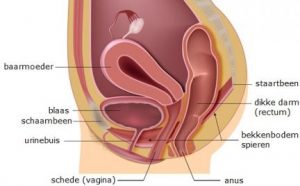 Neurological problems
If your incontinence is the result of a brain haemorrhage or stroke, the proctologist will unfortunately not be able to cure you with a technical procedure. Perhaps rehabilitation and muscle exercises can offer solace. If not, you should start thinking about a stoma, to collect the stool before it reaches the anus.
Don't wait too long
Pelvic floor problems as a result of weakening and prolapse can sometimes be remedied at an early stage by muscle exercises under the supervision of a specialized physiotherapist. No surgery is then required. Reason enough to make an appointment with the proctologist as soon as possible in the event of persistent – even extremely mild – incontinence. You can find us through this contact page . The first consultation is reimbursed by the insurance, if you bring a referral letter from the general practitioner.