My mole itches or looks strange?
Skin cancer and moles. Melanoma is a common form of cancer because the tumor often arises in a group of pigment cells in the skin: a mole. The cancer cells initially spread unnoticed in the mole. Then they grow out into the surrounding skin. Cancer cells from a melanoma can also later spread to lymph nodes and other organs. Melanoma is therefore a potentially fatal disease. That is why a check is important.
When should you go to the dermatologist?
When a melanoma is detected early, the risk of metastases is smallest and therefore the chance of a cure is greatest. If you want to detect a melanoma early, it is a good idea to keep an eye on your moles in the meantime. This applies even more if, for example, melanoma runs in your family. If a mole changes color or shape, it also becomes thicker. Or does the mole hurt or does the mole bleed, be sure to visit our dermatologist.
Skin Cancer Diagnosis
The dermatologist has so much experience that he can usually quickly tell whether something is a melanoma or a harmless mole. The dermatoscope (small microscope to view the skin) helps with this. This means that in case of doubt or reasonable suspicion, the dermatologist will surgically remove the mole, in order to determine with certainty whether the mole was malignant with a microscopic examination.
Treatment of melanoma
If the spot that was removed was indeed a melanoma, we'll need to remove more skin around the spot where the melanoma was already removed. The thicker the melanoma, the larger the area of skin to be removed. After all, to prevent cancer cells from remaining behind. Therefore, all tissue removed will be re-examined for the presence of these cells. In this way, the dermatologist can determine whether everything has indeed disappeared.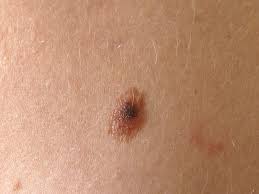 Vigilance after skin cancer treatment
Anyone who has ever had a melanoma should remain extra vigilant after treatment. First, be vigilant for any other new or growing moles. It is also wise to stay out of the sun as much as possible. All in all, however, with timely detection and treatment of skin cancer and moles, there is a good chance of survival. This means that regular checks contribute to a better course of the treatment.
Doubt? Visit the dermatologist
Skin cancer and moles
If you have any doubts about a new or changing mole, always have yourself examined by our dermatologist. The first consultation is reimbursed by your insurer, so the threshold for such a check-up is very low. In the first place you can schedule an appointment through your GP, or contact us directly. Call directly 085 – 022 0580 or go to our contact page .