What is an open leg?
Ulcus cruris is a wound on the lower leg that does not heal properly. This is also called an open leg. It may have a crust or moisture may come out. Before an open leg develops, there are often already abnormalities in the leg. Usually people with an open leg have varicose veins and fluid retention in the legs. This is accompanied by a tired and heavy feeling in the legs. Brown discolorations and eczema can subsequently develop, sometimes with hardening under the skin. Minor damage to the skin – or spontaneously – can cause an ulcer or wound. An open leg generally develops around or above the ankles. The wound is very prone to infections. Healthy skin grows back from the edges or from the bottom of the wound.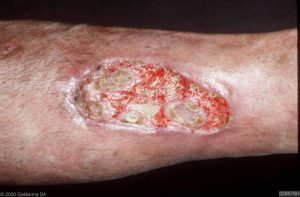 How is an open leg treated?
An open leg caused by a malfunctioning vein
During the treatment it is important that the blood flow from the leg to the heart starts to run smoothly again and that the fluid and waste products are removed from the leg. The wound often heals on its own. For this, a special pressure bandage is applied from the foot to the knee, which exerts the most pressure at the ankle and the least at the knee. In addition, it is important to walk a lot, because the calf muscle pushes the blood upwards. The special pressure bandage in combination with walking ensures that the blood is pumped upwards. The pressure bandage is changed 1 to 3 times a week in the hospital or clinic, by the general practitioner or by the dermatologist. This dressing treatment can last for several months. In addition, it is important that any varicose veins are treated.
If an open leg has healed, the patient should always wear a special elastic stocking during the day. This prevents fluid from accumulating in the leg again, which increases the risk of an open leg.
If an open leg does not want to heal, a skin graft can also be done. A piece of skin (usually from the thigh) is transplanted to the wound. This is followed by treatment with the pressure bandage, during which the patient also has to walk a lot.
An open leg caused by a blocked artery
If a malfunctioning artery is the cause of the leg leg, doctors will try to clear the blockage. This must be done surgically. The blockage can be removed (angioplasty) or a bypass can be made in the artery (by-pass), allowing the blood to bypass the blockage.