Treating Acne
Acne vulgaris or acne is a medical term for 'youth pimples'. Almost everyone gets acne during puberty. But you can also keep (or get) problems with it at a later age. Acne is often experienced as disfiguring. This can cause emotional and psychosocial problems for many adolescents and (young) adults. In addition, untreated or poorly treated acne can lead to permanent scars. The treatment is a team effort with the dermatologist, the skin therapist and you in the lead!
What is acne?
Acne is caused by inflammation of the sebaceous gland as a result of increased sebum production and closure of the sebaceous gland. The sebum (skin fat) cannot get away and will become inflamed. Acne is most common in places where there are many sebaceous glands: on the face, on the back and on the chest. In acne we see comedones, red pimples (papules) and pimples (pustules). Severe subcutaneous inflammation can leave scars and dark spots (hyperpigmentation) after healing.
Collaboration between the dermatologist and skin therapist
Good treatment goes beyond treating symptoms. At U-Clinic Westerpark you first make an appointment with the dermatologist. He or she will look at how serious it is and together with you (or your son or daughter) will make an appropriate treatment plan. He will then prescribe medication if necessary and refer you to the skin therapist. This then provides a professional acne treatment. If you are already taking medication through your GP or another dermatologist, you can immediately make an appointment with one of our skin therapists.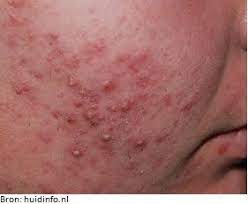 Treatment by a skin therapist
The skin therapist's treatment consists of puncturing and emptying comedones, pustules and inflammations. In a good way without extra risk of damage to the skin. In addition to deep cleansing, the skin therapist can also advise a peeling . This ensures that the exfoliation process of the skin is stimulated, reducing the chance of new comedones, pustules and inflammation. The therapist also gives advice on what you can do yourself to take care of your skin in the right way.
Treatment duration and reimbursement
The duration of treatment depends on the severity of the problem. But after the visit to the dermatologist, we can already make a lot of progress with a number of acne treatments. The goal of the acne treatment is to get the acne "calm" and stable, so that the chance of new scars and hyperpigmentation decreases. The reimbursement for this treatment depends on your policy conditions. Most health insurers reimburse (part of) the treatment of acne from an additional package.
A first date
Do you suffer from acne or do you have a son or daughter with this problem? Ask your GP for a referral to a dermatologist, and then contact us immediately